Becoming a pilot: point of view
Marina Ruis and Alexia Sabaté are two of our ATPL programme students. Marina is already a Private Pilot with about 100 flight hours of experience and she loves aerobatics. Alexia is a nurse who started from zero on November last year 2015. They are two women in a world that used to be a man's one but it is not anymore. We have had a chat with them just to know how they see the present and the future of their lives as a pilots.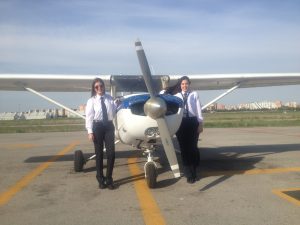 BFS.- When and why did you decide you wanted to be pilots?
Marina- After I got my PPL license I realized that I only wanted to live flying. This is my passion and I want it to be my way of life.
Alexia- Since I was a child aviation liked me very much. I thought it would be very hard to become a pilot but when I realized that being any other profession was very hard as well I decided to go for my dream. I really love a fixed place of work or live.
BFS.- How is the experience going? As expected?
M.- As I already was a PPL holder I had an idea about what it was anyway I have to say that it is harder than what I thought. I didn't imagine that I should study so much!!
A.- For me it is more or less as I expected. I am learning more things than what I thought before. It is a big personal satisfaction.
BFS.- Why did you decide to enroll in Barcelona Flight School?
M.- I already knew the school because I got my PPL here. I really value the big fleet the school has. Here you can go really fast with your training and finish the course in less time than other schools.
A.- I visited a lot of schools before. Once I visited Barcelona Flight School my decision was taken immediately, I didn't visited more schools.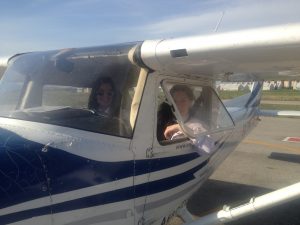 BFS.- Do you think that being a woman suppose any advantage or disadvantage?
M & A.- We would say that a disadvantage could be old stereotypes  about women for certain jobs. The advantage and extra motivation is to break these stereotypes and show to the society that they make no sense.
BFS.- Here, in the school, do you feel you are in a man's world?
M & A.- Here in the school our colleagues are young people who fortunately don't have these stereotypes anymore. We feel like one more in the group, the atmosphere is really good because it is a very international one with students from all around the world.
BFS.- What are your plans when you get your ATPL license?
M.- I don't really have specific plans. My plan is to fly, it doesn't matter where or what kind of aircraft.
A.- I would like to enroll in an airline, unless until I will be between 40 or 50 I want to work hard flying as many hours as I can. Then I will see…..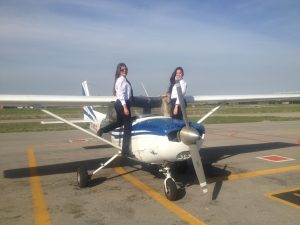 BFS.- Are you optimistic about future?
M & A.- Yes, we are really optimistic! Airlines are enrolling a lot of pilots so it's plenty of chances and good opportunities.
Being a woman will no suppose a disadvantage for finding a job unless the person who has to decide our enrollment will be an old traditional one with stupid stereotips. Nowadays we don't thing someone like this would have a charge in an airline.
Marina and Alexia it has been a great time having a chat with you. We expect all the luck for you that for sure, seeing how you face the future, you will have. Congratulations!
About Barcelona Flight School
Barcelona Flight School has pioneered pilot training in Spain, providing aviation training since 1.953. Since its very beginning, our school has trained more than 4.000 pilots and is active at all times promoting all kind of aviation courses, whether they are for ab-initio pilot training or for recurrent and skills training.
No other single school in Spain has the same experience training future pilots than Barcelona Flight School. This fact, paired with exceptional weather and an excellent aircraft fleet and instructor team, makes our school the natural selection for the serious student.